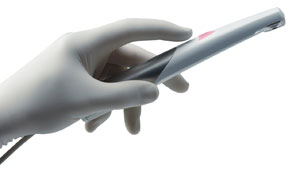 C-U2 is a totally digital imaging device featuring Progressive Scan technology.
This ensures premium image definition and perfect freeze-frame quality.
Quality imaging

C-U2 incorporates 12 warm white LED micro-lights, enabling an efficient spread of light in the oral cavity to provide bright images, rich in colour definition.

High-definition digital image capture is possible without loss of vertical resolution thanks to Progressive Scan, a technology which avoids conversion into an analogical signal.

The Retro-Flex wide viewing angle is partially inclined away from the extremity of the handpiece so as to enable easy access to distal and rear tooth areas


Plug & Play simplicity

A digital video system fully integrated into the handpiece itself does away with the need for independent power supplies or intermediate electronic devices between handpiece and computer.
Plug and unplug like a mouse with a high-speed USB2 connection.
Freeze-frame is activated via a touch-sensitive area on the handpiece enabling vibration-free image capture.

Manual adjustments are things of the past

A micro-processor inside the handpiece constantly adjusts all parameters in order to ensure optimum image quality: illuminated areas and shadow areas, colour brightness, reflections.
Remarkable visual depth of field allows full investigation of the oral cavity without the slightest need to manually focus on the single object.