Selector U2
Ultrasonic Scaler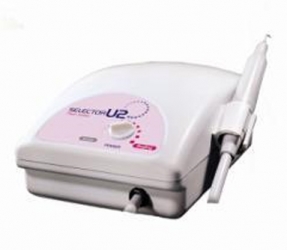 Scaling Function
* Titanium Handpiece is autoclavable.
* Bring patients the most comfort with high power & frequency.
* Suitable for long time operation without building heat.
* Easy to remove intractable calculus.
* Fine tuning control on power supply and waterspray.
Endodontic Function
* Smoother canal grants better obturation.
* Rapid and superior operating for root canal treatment.
* Root canal enlargement and swirling irrigation for debridement.
* Minimum dentin removal keeps the integrity of tooth structure.
Technical Specification:
| | |
| --- | --- |
| Power Supply : | AC230V~or 115V~(optional) 50/60Hz |
| Frequency : | 33.5 ± 1 KHz |
| Output Power to Tip : | Operator adjustable from 20 to 40 watts |
| Weight : | 1.75 kg |
| Dimension : | W210 x D165 x H90mm |
| Water Pressure : | 1~4 kg / cm² |
| Fuse : | F 0.5 A (for 230V unit) |
| | F 1 A (for 115V unit) |