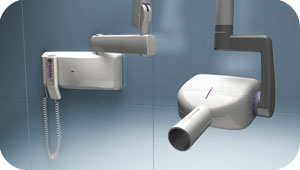 RXAC is a conventional unit built with resistant lightweight materials and designed to offer full compatibility with traditional and digital X-ray systems.
Straightforward and reliable

Solid design features and perfectly balanced arms prevent vibration of the tube head right through to the unit's maximum extension of 199 cm.

Intuitive icons and soft-touch keys make for quick and easy settings, including exposure times and film sensitivity or digital sensor mode.

The shock-resistant handheld control device is fitted with an extension lead or is available in a remote control version.

Mains voltage fluctuation is compensated for via a unit-integrated microprocessor, thus ensuring correct exposure times automatically.