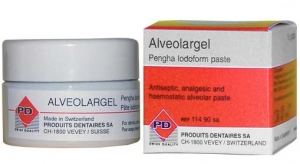 Alveolargel
Pengha lodoform paste
Antiseptic, analgesic and haemostatic alveolar paste
Composition
Penghawar‑Djambi 4%, lodoform 16%, Ethyl Aminobenzoate 26%, Eugenol 14%, Oil of Mint 8%, excipient ad 100%
Properties
Alveolargel combines 4 active substances of long‑lasting therapeutic activity. Penghawar­Djambi is a haemostatic, lodofof m is an antiseptic and ‑Ethyl Ami nobenzoate is a local anaesthetic which acts quickly and remains effective for a long time. Eugenol strengthens the analgesic and antiseptic effects of the other components.
Indications
• Post‑extraction sockets
• Alveolar osteitis
• Prevention of postTextraction alveolar com~ons
Directions for use
As a non‑resorbable dressing
• Apply the paste on a gauze which can be removed after 2 to 6 days or
• Apply directly into the socket As the paste is not resorbable, do not suture after application. The paste remains active for several hours. The patient should be advised not to swallow the paste.
Warning
In cases where an allergic reaction is noticed, immediately remove the paste already applied and rinse well.
Storage
Store at room temperature between 15ºC and 25ºC, protected from direct light. When closing the jar, make sure the lid is tightly screwed on. Once the jar has been opened, the paste may darken after exposure to air but darkening does not, in any way, alter the effects of the paste.
Packaging REF
Jar of 15 g 114 90 sa