Camphor Mono-Chlorophenol
PD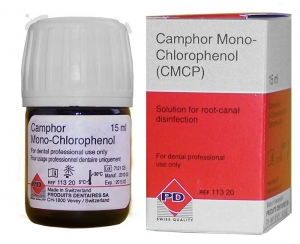 Composition
P-Chlorophenol 35%, Camphor 65%
Properties
PD Camphor Mono-Chlorophenol, also know as CMCP, is an active disinfection for the treatment of infected root-canals and periapical infections.
Indications
> Disinfection after pulpectomy
> Treatment of post-traumatic inflammation
> Pulp dressing
Directions for use
> Dry the root-canal thoroughly
> Following a pulpectomy: insert 1 or 2 of the preparation into the root-canal and allow a few minutes for it to take effect. Remove any excess solution with a cotton pellet or an absorbent paper point.
> Following the extraction of gangrenous pulp: use as a dressing by inserting into the root-canal with a smooth broach and obdurate temporarily. Leave "in situ" for at least 3 days. Make sure the canal is completely disinfected after that period. If this is not the case, repeat the dressing before the final obturation
Storage
Store at room temperature between 5۫ and 30۫ C, protected from direct light.
Packing
Bottle of 15 ml