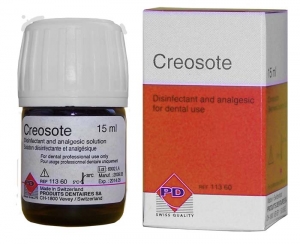 Composition
Beechwood Creosote
Properties
«PO" Creosote is composed chiefly of Guaiacol and Creosol and is used for its antiseptic and analgesic actions. It is applied topically, preferably in diluted solutions either in alcohol or in an essential oil.
Indications
> Disinfection of the root-canal
> Treatment of putrescent infections, stomatitis
> Pain-relief after extraction
Directions for use pipe use a plasticpipette or a cotton pellet to apply adroplet of the solution to the area to be treated
Warning
Do not swallow. Avoid contact with skin or oral mucous. Where necessary, rinse abundantly with water.
Storage
Store at room temperature between 5° and 30°C, protected from direct light.
Packaging
REF Bottle of is mi 11360 Bottle of 30 ml 11361