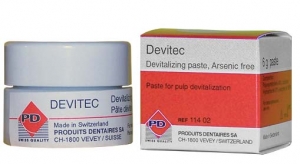 Devitalizing paste, Arsenic free Paste for pulp devitalization
Composition
Polyoxymethylene 46%, Lidocaine Hydrochloride
37%, Oil of Cloves 12%, excipient ad 100%
Properties
Devitec should be used when a medicated preparation for pulp devitalization is advisable and when an arsenic‑free preparation is preferred. The active ingredient is Polyoxym ethyl en e, a coagulant which acts on albumin and confers the required fibrous consistency to the pulp to facilitate its subsequent extirpation. Lidocaine Hydrochloride is an anaesthetic to relieve pain and calm irritation.
Indication
> Devitalization of the pulp
Directions for use
> Eliminate, as far as possible, the dentine of the decayed cavity in order to ensure close contact with the pulp. Close contact of the paste with the pulp accelerates the devitalizing process
> Insert a small quantity of paste into the base of the cavity and seal hermetically with a temporary obturation
> Devitalization is completed within about seven days
> If the preparation cannot be brought in close contact with the pulp, a second treatment might be necessary in a 2nd seat.
> After devitalization, a permanent root‑canal filling can be placed once the pulp is totally removed and pain relief is complete
Warning
• Contains Polyoxymethylene which can be toxic by inhalation or ingestion. Contact with the skin may cause irritation, burns or hypersensitivity
• If the product comes into contact with the eyes, rinse thoroughly with fresh water and consult a physician
Storage
Store at room temperature between 5ºC and 30ºC
Close the container carefully after use
Shelf life : 3 years in non‑opened syringe or jar
Packaging
Jar of 6 g