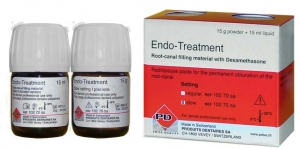 Composition
Powder: Dexamethasone Acetate 0.01 %, HydrocorL'Isone Acetate 1.0%,
Polyoxymethylene 2.2%, Thymol Iodide 22.5%, excipient ad 100%
Liquid: Eugenol95%,excipientad100%
Properties
Endo‑Treatment is a radiopaque preparation for permanent root‑canal filling. Its composition is well tolerated by tissues and it provides anti‑inflammatory, antiseptic and germicidal actions. Before hardening, the paste penetrates the narrowest fissures and maintains its therapeutic effects throughout the treatment until completely set. The final obturation neither retracts nor resorbs.
Indications
> Permanent obturation of the root‑canai either after pulpectomy or after treatment of infected 411 degree cavities, preferably associated with endodontic points.
Directions for use
• Clean the canal thoroughly and‑ dry with hot air
• Mix the powder and liquid until to obtain a paste of the required consistency (see list)
• Work the paste into the root‑canal with the aid of a probe or a rotary paste filler Fill the canal completely, avoid air pockets, do not protrude beyond the apex
Average‑working times A (210C /50% humidity) / Setting times B (370C / ‑100% humidity)
Ratio

Liquid/powder

Spatulation

A

B (ISO 3107)

Endo-Treatment Regular

1/4

1 min. 20

4h45

2h15

Endo-Treatment Slow

1/5

1 min. 20

6h

5h45
Warning
Contains Polyoxymethylene which can be toxic by inhalation or ingestion. Contact with the skin may cause irritation, burns or hypersensitivity. If the product comes into contact with the eyes, rinse thoroughly with fresh water. In case of ingestion, require the patient to drink a lot of water. Consult a physician.
Storage
Store at room temperature between 5ºC and 30ºC, protected from direct light and humidity
Shelf‑life : 3 years in non‑opened jar
Regular Slow
Packaging REF REF
Portion 15 9 powder + 15 ml liquid 102 70 sa 102 75 sa
Bottle of 15 g powder 102 71 sa 102 76 sa
Bottle of 15 mi liquid 102 72 sa 102 72 sa