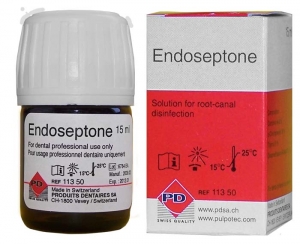 Camphor Chlorophenol Thymol with Dexamethasone :
Solution for root‑canal disinfection
Composition
p‑Chlorophenol 30%, Dexamethasone Acetate 0. 1 %, Thymoi 5%, excipient ad 100%
Properties
Endoseptone is a solution which offers a triple‑action : bactericidal, sedative
and anti‑inflammatory, thanks to the added Dexamethasone. It also reduces the risk
of allergic reactions.
Indications
> Disinfection of the root‑canal and deep caries
> Treatment against gangrene of the pulp
> Disinfection of narrow, obturated or partially calcified root‑canals
Directions for use
• Dry the root‑canal thoroughly
• Following a pulpectomy: insert 1 or 2 drops of the preparation into the root‑canal and allow a few minutes for it to take effect. Remove any excess solution with a cotton pellet or a gauze
• Following the extraction of gangrenous pulp : use as a dressing by inserting into the root‑canal with a smooth broach. Leave 1n situ" for at least 3 days. Make sure the canal is completely disinfected after that period, If this is not the case, repeat the dressing before the final obturation
Precautions
If used after an arsenical treatment, first rinse the root‑canal with an aqueous Iodine
solution, then rinse with water and dry.
Packing
Bottle of 15 ml