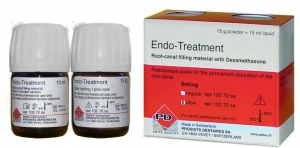 Reactive liquid for the preparation of ZOE cement.
Composition
Eugenol 100%
Properties
Eugenol is an essential oil obtained by purification of Oil of Cloves. Mixed with Zinc Oxide, it reacts to form a Zinc Oxide‑Eugenol cement (ZOE Cement), used in dentistry for its compatibility with both hard and soft tissues of the mouth.
Indications (ZOE Cement)
> Temporary obturation of the root‑canal
> Protection of nearly exposed pulp
Direction for use
On a glass mixing slab, mix a few drops of Eugenol to the powder of Zinc Oxide and work it into a paste of the required consistency.
Setting time
In presence of moisture, the mixture will begin to set. Higher moisture rate or tempera­ture will accelerate the setting reaction.
Storage
Store at room temperature between 5 and 30ºC, protected from direct light.
Warning
Do not use in case of allergy to Eugenol
Packaging REF
Bottle of 15 ml 11420
Bottle of 30 ml 11421
Bottle of 100 mI 11422