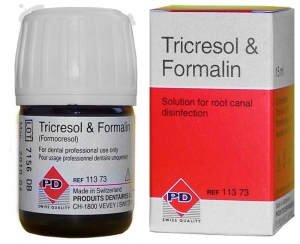 Solution for root-canal disinfection
Composition
Tricresol 35%, Formaldehyde (40%)19%, excipient ad 100%
Properties
Since its early introduction in 1905 by Buckley, Formocresol, thanks to its antibacterial activity, has proved as efficient in vital pulpotomy as for root-canal treatment.
The Formaldehyde acts as a powerful, long-Lasting germicide and also renders inert any remaining organic materials.
The Cresol acts as an efficient antiseptic and also reduces any irritation that could be caused by the Formaldehyde.
Indications
* Treatment of 41h degree caries
*Root-canal disinfectant dressing, to be used specially when fistula have developed
Directions for use
> Clean and prepare the canal. Dip a cotton gauze into the solution, squeeze until no longer dripping and insert into the canal
> Seal with a Temporary Cement
> Remove the temporary filling and the gauze after 3 to 5 days and check the asepsis of the canal. Where necessary, the treatment can be renewed
> Close cavity with a permanent filling
Storage
Store at room temperature between 5° and 30°C, protected from direct light
Packaging
Bottle of15ml REF 11373
Bottle of 30 ml REF 11372