SkyView 3D CBCT
3D CBCT panoramic imager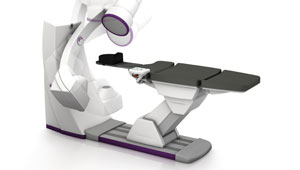 Advanced CBCT radiology designed specifically for dentistry and providing new levels of comfort and absolute diagnostic precision.
3D for dentists
With SkyView you can obtain three-dimensional reconstructions of teeth and the entire maxillofacial area.

High-resolution images with a 9" or 6" field of view can be completed with a close-up zoom of a 4" diameter section.

Images are completely free from geometric deformation, perfectly measurable with micrometric precision and reliable over time.


Safety and wellbeing
The high sensitivity of the image intensifier, the scan speed and the pulsed X-ray emission system ensure that X-ray doses are very low indeed.

A natural, unhindered position means no claustrophobia or anxiety. With SkyView, the scanning experience is a pleasant one.

SkyView can easily be installed in any dental surgery: X-ray screening requirements are comparable to those of a panoramic system.


Laser beam positioning and Scout method
The software-guided Scout procedure is extremely high-precision and involves the acquisition of two preview (Scout) X-ray images at extremely low dosages; these previews are used to identify the centre of volumetric reconstruction.

New reclining chair for easy access
The new reclining patient chair is automatically lowered into the access position to make seating the patient easier; the patient's head is supported by the comfortable headrest, a soft height-adjustable cushion designed to stabilise the cranium; then the chair stretches out to perform the quick X-ray examination.

Image quality and precision
The supine position gives the best possible degree of immobility without having to resort to constriction of the cranium, thus ensuring naturally enhanced image quality


Thanks to Isotropic Voxels, measurements are reliable and on a 1:1 scale whatever the reference plane of the measured sections..

Simple, yet effective positioning procedures ensure the X-ray will never have to be repeated because of alignment errors.

Perfect data presentation
At the end of the acquisition/volumetric reconstruction procedure, the dentist will have multiple views of the patient's anatomy:

a curvilinear cross-section that resembles the "panoramic" image

a moveable 3-D model

a coronal cross-section that allows exploration of the upper/lower dental arches

ten transverse cross-sections that are especially useful for the linear and angular measurements so often used with implants.